Restaurants & Bars
Our dining areas and bar welcome you in a sober and refined atmosphere. From breakfast to dinner, including lunch, taste our "homemade" dishes or sip a good cocktail. For a moment of exchange and relaxation, you will enjoy discovering the flavors of the country and elsewhere.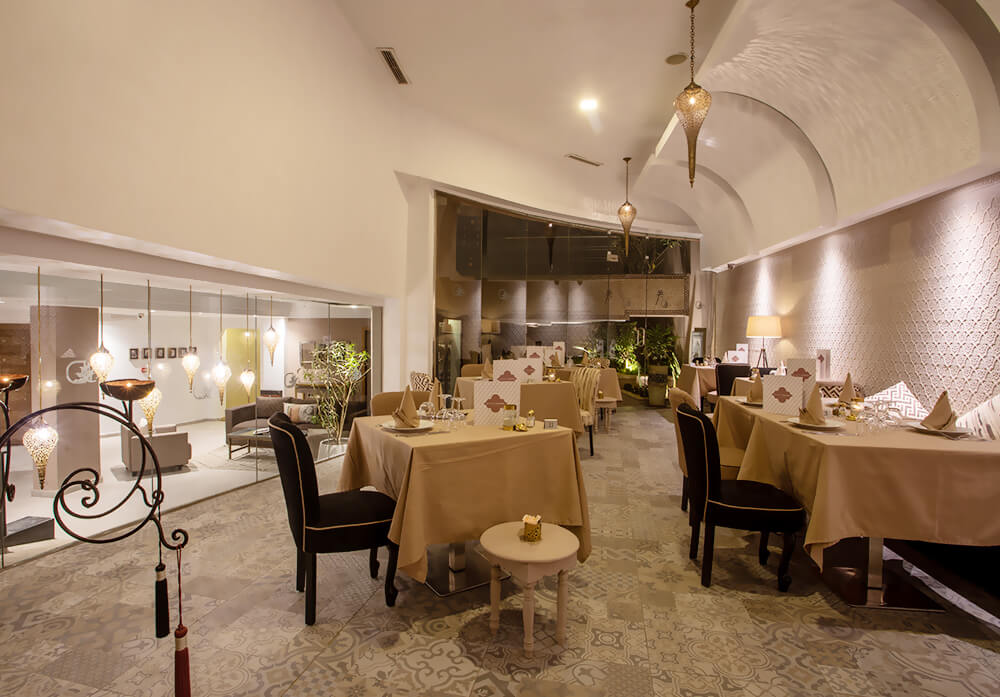 ORGANZA RESTAURANT
Like its menu, the ORGANZA restaurant is a blend of authenticity and modernity. We become familiar with the Moroccan artisanal touch and modern comfort through a refined and elegant decoration. Let yourself be enchanted by the many culinary choices offered by the chef and the warm welcome from his staff.
Located on the ground floor of the hotel, three services are suggested to you, including breakfast, lunch and dinner as a Moroccan and international buffet.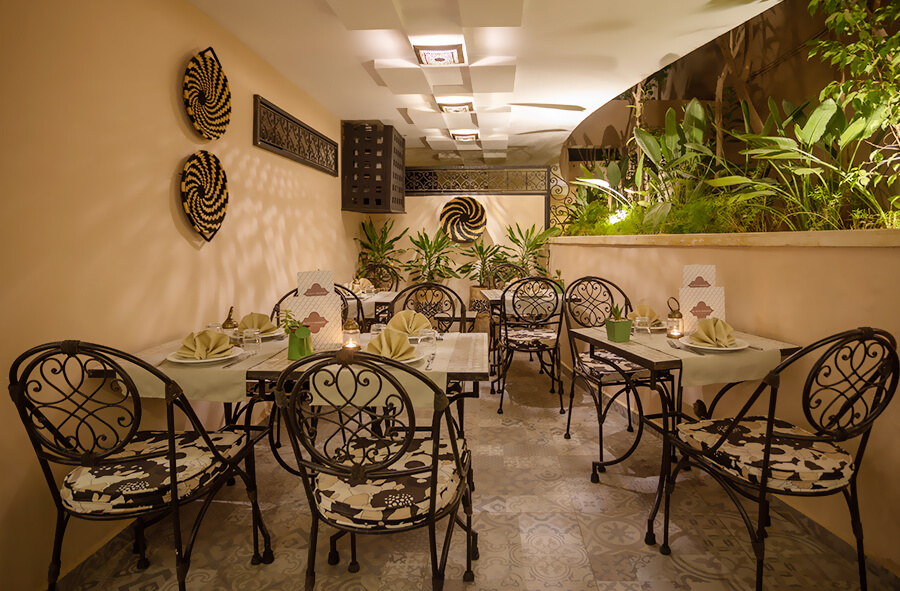 AU PETIT MOROCAIN
A space exclusively dedicated to Moroccan cuisine to the delight of lovers of culinary flavors. Each evening, a tasting menu awaits you, designed with authenticity and finesse. We find the cuisine of Moroccan mothers where the subtle mixtures of spices and perfumes will delight your taste buds.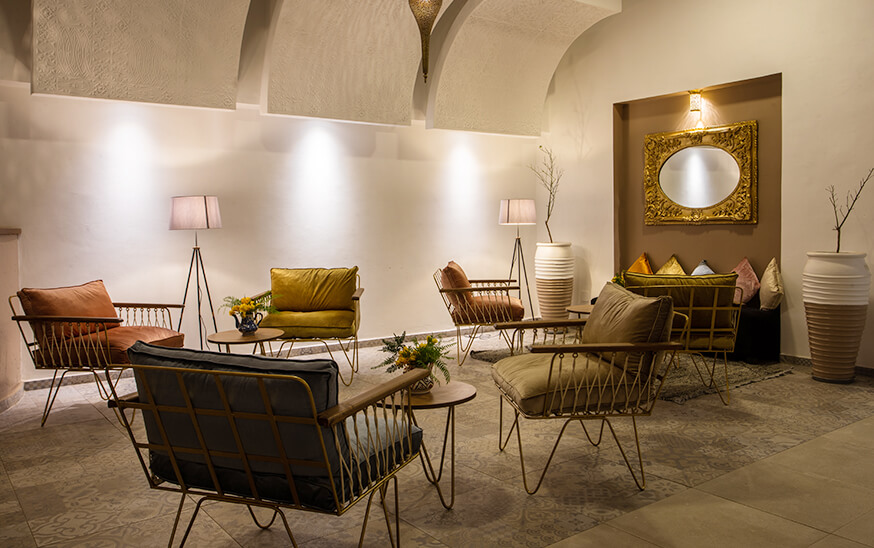 PURPLE MINT TEA LOUNGE
Take a gourmet break at the Purple Mint Lounge to savor a good mint tea around a date, a business meeting or just between yourselves. The atmosphere is relaxed, the furniture comfortable and the choice of teas … succulent. Let yourself be charmed by the elegance of this place where oriental delicacies are tempting through its traditional pastries.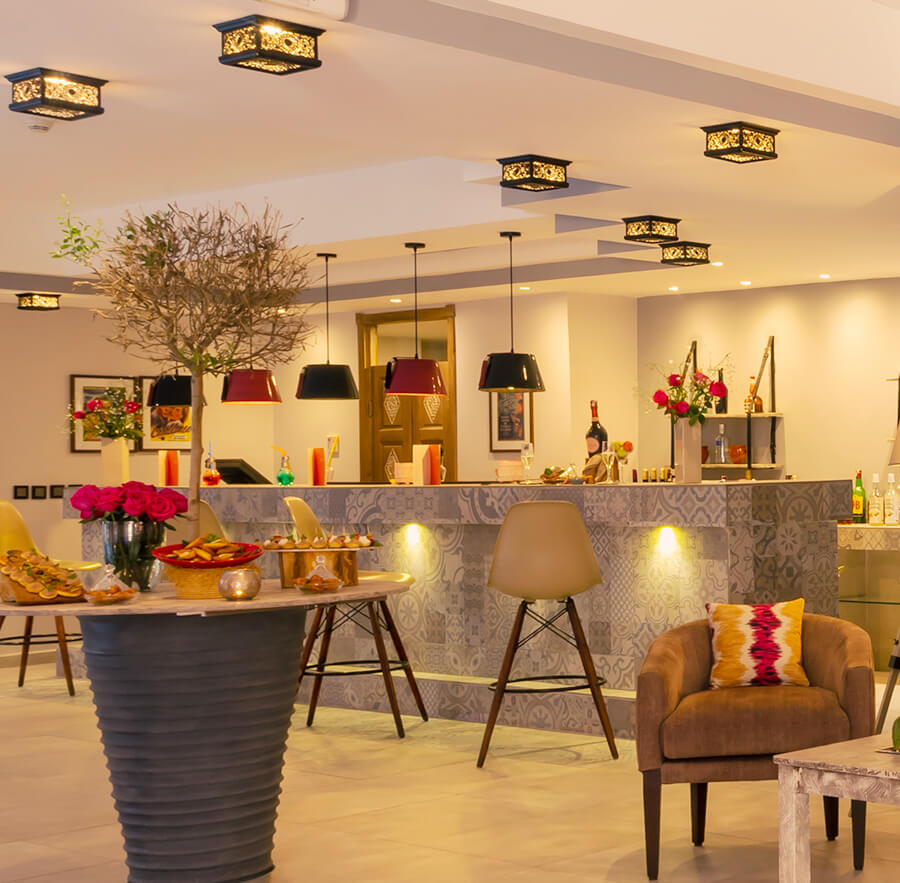 LOUNGE BAR
Zaafran Lougne is a bar, opening onto a spacious terrace, where you can easily be tempted by tasting a cocktail and tasty Tapas that transport you to the shores of the Mediterranean. The "Happy hour" formula will leave you with no other choice than to take advantage of this moment of relaxation and conviviality.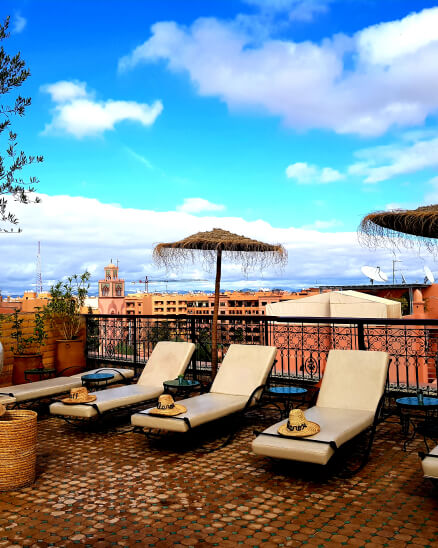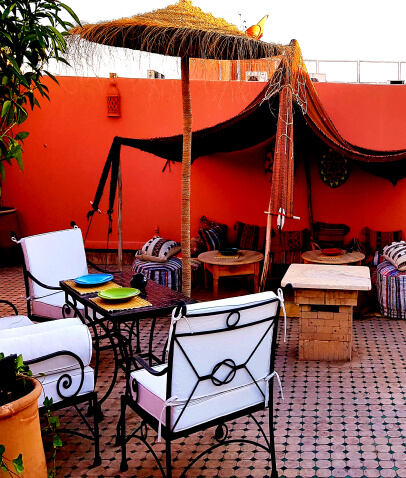 ROOF TOP SKY GARDEN
In the heart of the city, on the 6th floor, nestles the Roof Top and the Sky Garden. Its 360 ° orientation gives it a majestic view of the Atlas mountain range. Cocktail bar and restaurant area under a "beldi" decoration invite us to change of scenery. Overlooking the rooftops of Marrakech, you will enjoy a peaceful break, enjoying an exceptional view.